Portrait – Illustration Friday
Click for a bigger and better photo!
When I was younger, I always wanted to be a schoolteacher. Better yet, an elementary school art teacher. Well, I sort of followed my dream, and about four years ago I began teaching Graphic Communication at a local college. This ended up being my dream job! Who would think I would go from wanting to teach first graders to teaching college students. This initial dream was my inspiration for this week's Illustration Friday topic, "Portrait."
I was playing around this afternoon; and came up with a sepia version. For some reason, I always love the way illustrations look when they are duotone, or have an old feel to them.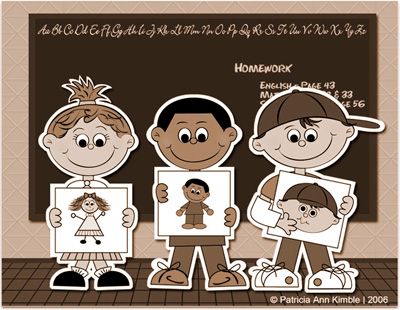 Click for a bigger and better photo!



Bonus Portrait:

For our final project in my college Drawing I class, we had to create a series of artwork. Since I loved doing portraits, I chose to do classic film stars. This is just one of the portraits I created. Can you tell who it is (yes, the name of the file name WILL give it away)? It was drawn with charcoal on plain old 19" x 25" drawing paper. Gee...I really need to get my conventional art goodies out!