Skyline – Illustration Friday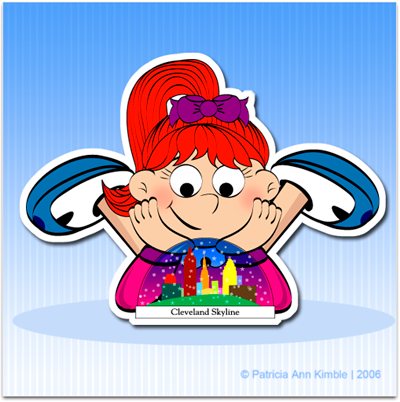 Click for a bigger and better image!
I see a trend happening...it is Wednesday already (although, this morning I could have sworn it was only Tuesday), and I finally completed my
Illustration Friday
. No excuses this week, except I just haven't felt like being on the computer. Let's just say I needed a little break!

This week's topic was another topic where I couldn't really get motivated at first. I guess I like topics that you can really expand upon...topics like "inspire" or "feelings." But, today I was sitting thinking about things...and, I was able to come up with something I am kinda pleased with.
When I was a little girl, I always loved snow globes...those little plastic, cheapie snow globes that you would spot in truck stops and souvenir shops. I never owned any that I can remember...but, I did always hope that somehow one would make it home for me to get lost in. Also, lately I have been dreaming of visiting my family (I was born and raised in Cleveland...and, have only been back to visit twice since we moved to Texas in 1996). This was my inspiration for this week's
Illustration Friday
topic, "Skyline."