Sacrifice – Illustration Friday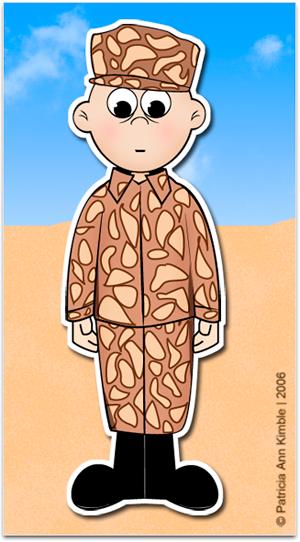 As long as I can remember, my nephew wanted to be a Marine. I'm not sure if he dreamed this because his father was a Marine, if he was intrigued with war, or if he truly wanted to protect our country. But, he always knew what he wanted to be when he grew up. Even when he was in school, he joined the "Young Marines"...and, right out of high school he became a Marine.
Last year my nephew went to Iraq and fought among the many men and women to help the citizens of Iraq gain their freedom. He never told me if he believed what he was fighting for...but, as far as I know...he never complained. His unit was hit hard with great devastation losing many troops in roadside bombings and insurgent attacks. Forty-six Marines and two navy Corpsman serving with the Battalion he was a part of gave their lives. My nephew's life was spared and he is now at home safe and sound. Just last month he celebrated his 21st birthday! But, I think about how my young and innocent nephew grew up rather quickly because of this war; he now knows more devastation and has seen more death than I ever can imagine. Then I think about the many men and women that made that ultimate sacrifice to forward the cause of democracy in Iraq...and each day more and more people are making that final sacrifice. This was my inspiration for this week's
Illustration Friday
topic, Sacrifice.