Cake – Illustration Friday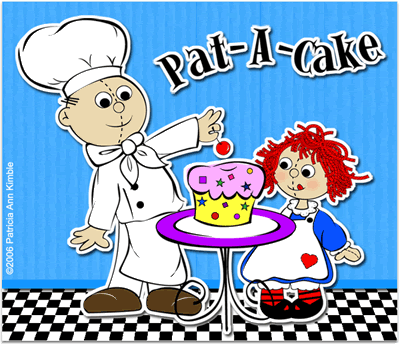 Click for a bigger and better photo!
I admit it...I have been a bit frustrated with the
Illustration Friday
topics lately. Not so much that they are poor topics...just that my brain doesn't seem to want to come up with anything different or unique. What can I say?...I like to be different and unique! With this said, I succumbed to fitting in with the Joneses and simply drew a cake.
Going back to my dreams of illustrating children's books...I decided to make this entry a mock cover for a children's book (a girl can dream, can't she?). Well, when my daughter was young, she had a life-sized Raggedy Ann doll...and, she used to play games with her, including the classic nursey rhyme "Pat-A-Cake." This was my inspiration for this week's
Illustration Friday
topic, "Cake."
Pat-A-Cake, Pat-A-Cake
Baker's Man!
Bake me a cake as fast as you can...
Roll it, and pat it
and mark it with a B
and put it in the oven
for baby and me!