Under the Sea – Illustration Friday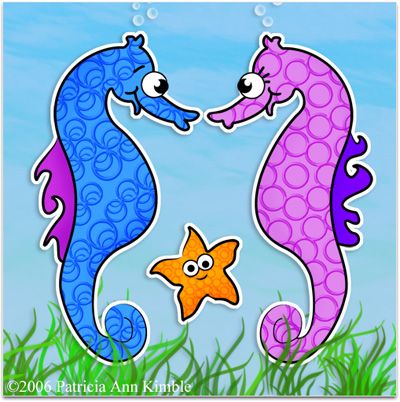 Click for a bigger and better image!
When I saw what this week's topic was, I had a deja vu moment! "Hmmm," I thought..."didn't we already do 'Under the Sea' before?" So, I looked back at my previous entries, and realized that we did have the topic, "Sea," not too long ago.
After realizing I wasn't losing my mind, I tried to come up with a unique illustration. After a couple of days of contemplating and sketching, I realized my creativity gene must be on vacation this week. Perhaps it is because I'm developing my students' finals; perhaps it is because I'm bogged down with LOTS of grading; perhaps it is because I was finishing up my online professional development class...who knows, but I just couldn't get creative with this topic.
After feeling like a creativity failure this week, I finally decided to just draw something that I have always been intrigued with, seahorses. This was my inspiration for this week's
llustration Friday
topic, "Under the Sea."
Don't forget to check out my new
Weekly Photoshop Challenge
. This week's topic is "Silhouette." So far several participants have created some wonderful creations! Visit, and see what you can come up with as well!